71404 Foundation Digital Managed Classroom
The 71400 family of Drop-In AV® systems are efficient, packaged solutions for entry-level digital managed classrooms, backed by the TEKVOX networked control system infrastructure. The 71404 features a seamless 4×1 HD video switcher, with five different multi-viewing modes and independent audio control. Powerful HDBaseT transmission sends audio, video, and control signals to a display up to 100 meters away. The TekTouchPad – mountable on a table or wall – provides users with convenient, total control over their display, video, and audio.
Assembled in a custom all-metal enclosure, the main 71404 equipment housing offers a plug-and-play, fully managed digital A/V solution for classrooms and conference rooms.
Like all Drop-In AV® solutions, the 71404 is factory built, programmed and tested before being kitted and shipped to the integrator for installation and requires no coding or data entry for immediate network management. All necessary cables are included and labelled, and only a single cable must be installed between the main enclosure and a receiver mounted near the display.
Features
Integrated management, switching & HDBT transport
All digital multi-view switcher with flexible view modes
Occupancy-based automation
All required cables and plates included
Audio through display, projector, or optional package
'-BT for HDBT projectors, '-HD for HDMI projectors
Included in This Solution Package
Part Number: 70004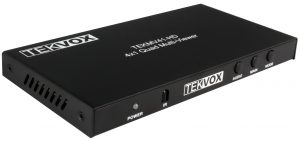 Part Number: 79079
Part Number: 78034
Related Products