Large Room Occupancy Sensor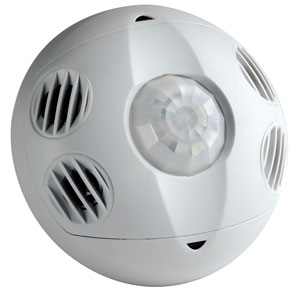 TEKVOX offers both small and large room occupancy sensors with advanced multi-technology to enhance the operation of a TekMonitor. These sensors use both infrared and ultrasonic technology to provide the best monitoring without typical false triggers created by other sensors detecting people walking by the door. Using an advanced microprocessor, these sensors automatically adapt to the room's usage allowing for an easy and quick install. Once the sensor is installed, there is no need to make any new adjustments.
By incorporating an occupancy sensor, a TekMonitor is able to manage the lamp life of a video projector with extreme efficiency. This is accomplished by automatically shutting down the video projector when someone leaves the device running and then exits the room. It is not uncommon for a video projector to remain turned on overnight or during the weekend. A TekMonitor partnered with an occupancy sensor will increase a projector's lamp life and provide substantial energy-savingsas well. Other benefits include control of a room's lights, interface with the HVAC system, and monitoring the occupancy of a room for crisis management.
Part number: 78003
Features
Easy configuration with TekManager/TekWizard
Room occupancy monitoring
Automatic lighting control
Automatic equipment shut down
Related Products
Part Number: 78002
Small Room Occupancy Sensor
Part Number: 78021
Wall Mount Large Room – 180°, 40khz, 1200 Ft² Sensor
Part Number: 78039
Small Room Passive Infrared Ceiling Occupancy Sensor.