Enterprise A/V Management
TekEnterprise is a scalable enterprise management system that provides anywhere, anytime monitoring and control of all TekMonitors and their linked assets along with a modular backplane on which can include an array of extensive services.
Much like an "App Center", TekEnterprise allows for modular addition of software applications that can interact with the A/V-plant. Current applications include:
Real-time system status and monitoring of TekPatrol devices, projectors, as well as third-party media controllers
System management and control
Error detection and notification with optional automatic service ticket generation
Asset management database
Room scheduling
Energy savings reporting
Inventory management
User management and access control, and bring-your-own-device (BYOD) room control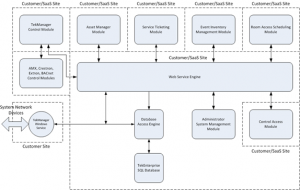 Case Studies
After reviewing various mediated classroom systems, LSC installed over 250 classrooms throughout their campuses using TEKVOX's Drop-In Solutions.